Bead 'n Banter
Bead 'n' Banter
A Bead Club which meets every 1st Wednesday each month. It is an informal meeting, when members bring along some beadwork and have a natter with like-minded people. More of a social event really and a chance to do some beading away from distractions at home!
We meet at The Horsebridge in Whitstable from 10.00am to 12.30pm. Come along and meet us and exchange tips and ideas - it is a really nice, friendly and relaxed atmosphere. £6.00 includes light refreshments. (Sometimes Cake)
We also have a monthly raffle for exciting beady prizes
And we run a quarterly beading challenge for beady prizes
We were asked by The Horsebridge to make something for the Easter Trail they were running during the school holidays. We got together and with loads of help from Josephine we made a basket of beady flowers. It was won in the raffle by Marian.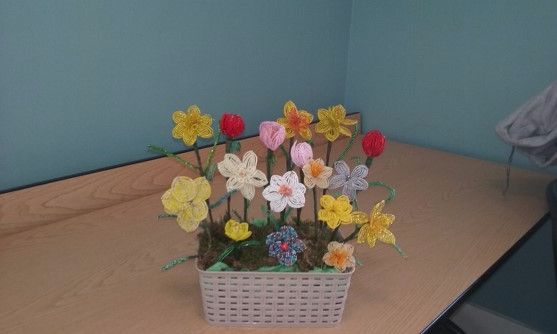 NEXT MEETING WEDNESDAY 5TH JULY AT THE HORSEBRIDGE, WHITSTABLE 10.00AM - 12.30PM
THE NEXT QUARTERLY CHALLENGE - "BLUE......." - will be judged for a fab prize. This challenge will be judged at the September meeting.
"Lorraine's Library" - members will be able to borrow a book/pattern (for a very small fee) from the collection that once belonged to Lorraine Monaghan, one of our founder members who sadly passed away. We feel that this is a fitting tribute to a very lovely lady, who is very much missed.
Interested? Just pop along and see us.
Ring Jayne the Secretary on 01227 265293 or Gill on 01227 273524 (mobile 07561 223913)
Here is a picture of the entries for the last challenge entitled "Midsummer Madness" judged at the June meeting. Mariane's lovely sea themed brooch, bottom right won her a fabulous Bead Book, well done Mariane.