I am now going to try and have a go at writing a daily beading blog and here is day 1!
27th October 2015, I have just finished making a necklace/bracelet which is from the wonderfully talented Jean Power's book entitled "Small Beads Big Jewellery".
The beading part was worked with size 8 seed beads made into triangles and increased and decreased as you go. Each end is fitted with a large lobster clasp which is attached to a chain to make a necklace, or without the chain, becomes a bracelet - Jean you are a genius!!!!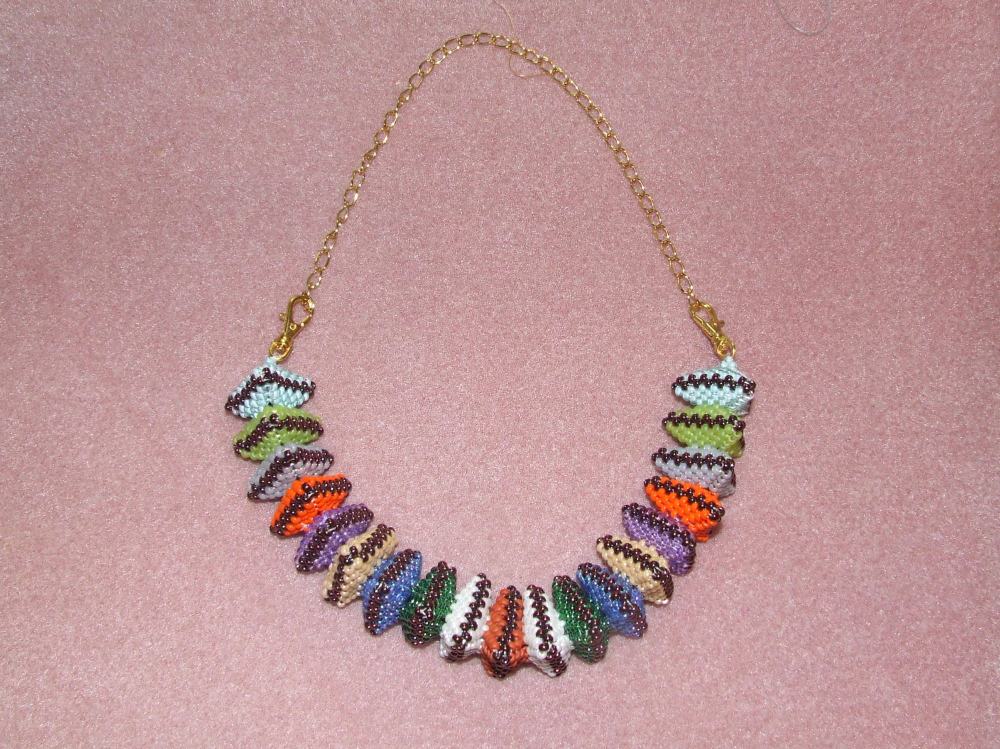 Its was fab to make and I am really pleased with the result, hope you like it too.
I am so inspired by Jean's work that I have purchased her Geometric Beadwork book too and have got her Secret Bead Christmas Secret materials to have a go at.
Check out her website http://www.jeanpower.com
So, what shall I start on next? - my aim is to bead each day and record my progress, feel free to make comments and join in too if you like.
28th October 2015
Today's beading has been a bit hit and miss. I decided to practice some of the pieces in Jean Power's books, starting with the triangles in her Geometric Beadwork book, in chartreuse, brown and pumpkin. I then moved onto the peyote stitch tubes from her Small Beads, Big Jewellery book in the same colours and enjoyed doing these pieces (hit). As I continued I could visualise a finished piece but would need to make quite a few of the tiranges and tubes. I then decided to see if I could do the next item in the Geometric book Crystal Triangulations, and had a bit trouble and started over again. I ended up with the lilac and gold item which was far from perfect (miss)! However, now I know what I am supposed to be doing, I will try again.
Feel I am waffling a bit! So here is the image of today's beading.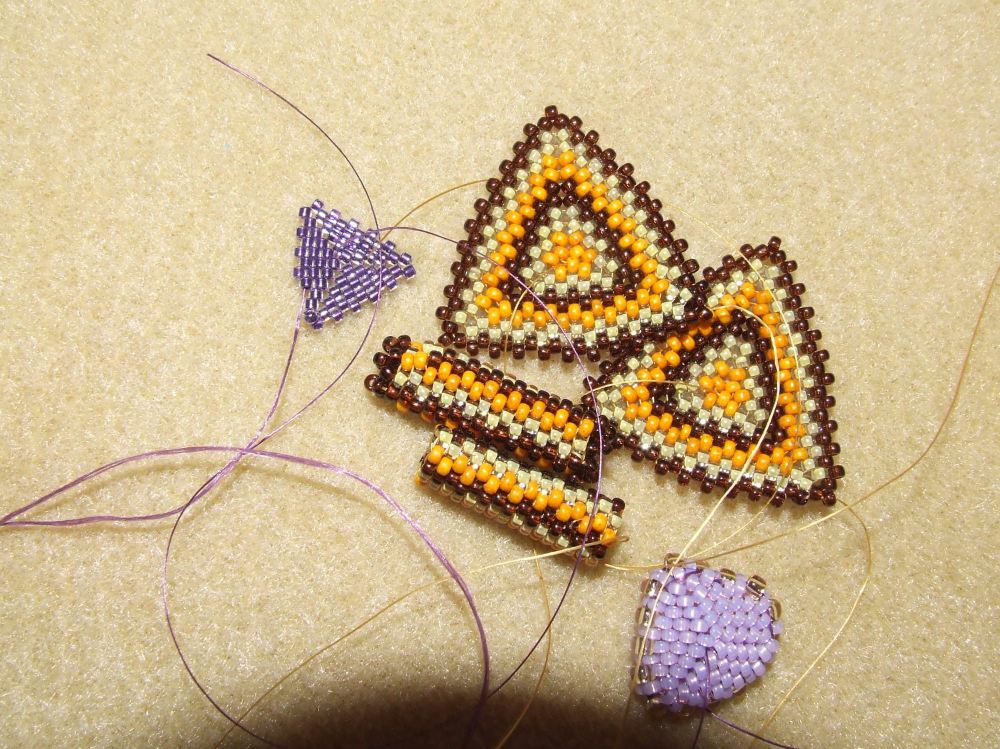 29th October 2015
Today is a work in progress as I am now making more of the triangles to make into a similar bracelet in the book. Here is where I am so far:-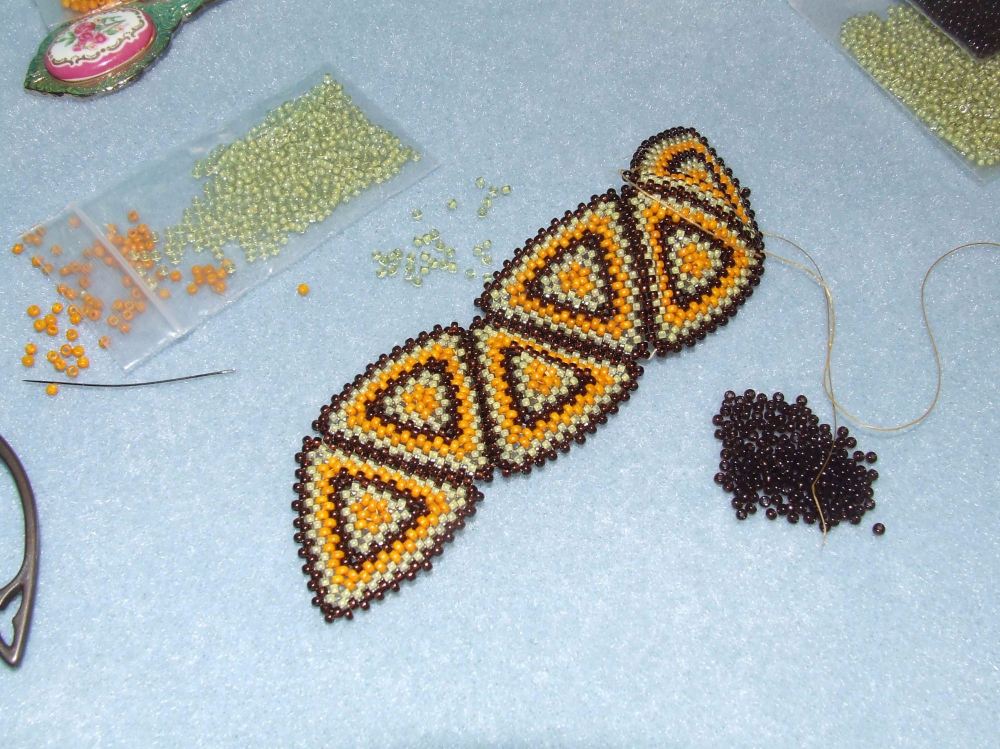 30th October
I decided to link the triangles as in Jean Power's book - Flat Triangle Bangle - I used 8 triangles as mine were a couple of rows larger than in the pattern. I now need a bar clasp in gold, which I have had to order so will have to wait to finish.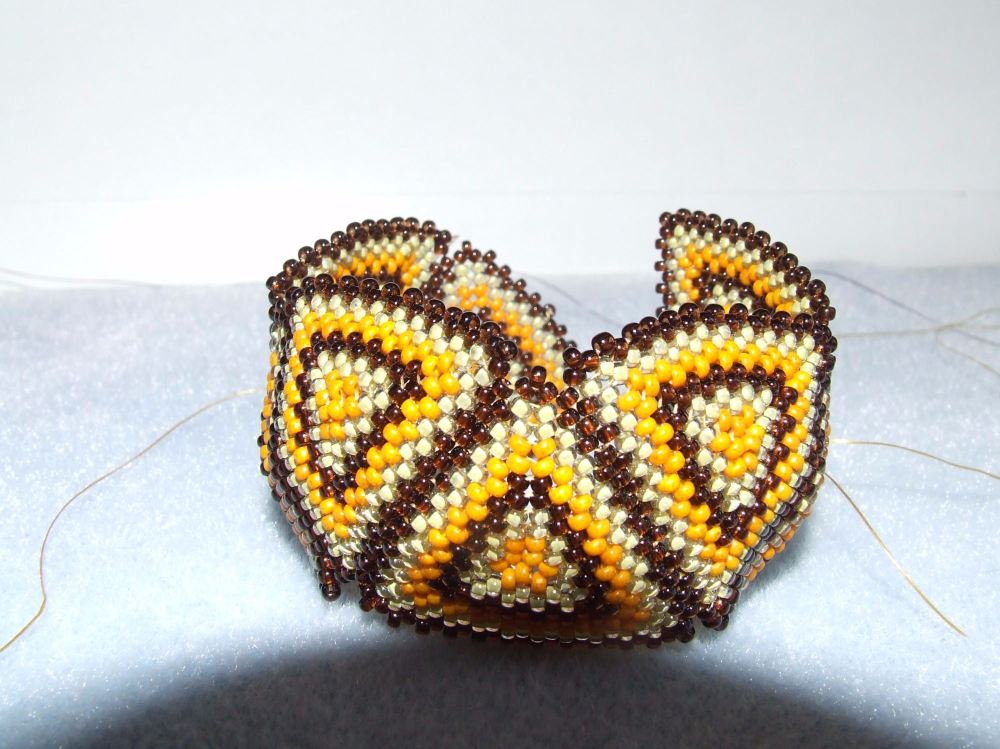 31st October 2015
Have you looked at the free beading patterns on beadsmagic.com? If not take a look. The latest one is for a pair of earrings using Swarovski Crystals and the Super Duo two hole beads. I had a go in green shades, HOWEVER - BEWARE!! I did the first round as per the picture instructions, fine, so far so good, then when I did the row which uses the"other" hole, I cae across one bead which I could go throught the hole, because it was not there, the hole that is. I haven't often used two hole beads and it did reind me that this was an issue. So, REMEMBER folks, it is worth checking that the beads have two holes that the needle can go through.
Nice earrings though, thanks Beadsmagic.